Painting and Dry Film Applications of Aluminum Shafts for the Aerospace Industry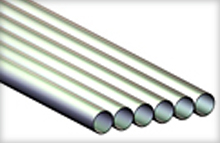 (Click on thumbnail to enlarge)
We finished the aluminum shafts pictured here, which range in size from 3" to 3' in length. Operations consisted of solvent cleaning to provide a clean, dry surface, selective masking, and then mil-spec painting with specific colors for easy part identification. We also applied a micro-inch coating of a dry film lubricant and permanently bonded it to the metal by means of a thermal cure. This added layer provided a low friction, high wear surface that would withstand exposure to extreme high temperatures and ensure reliable operation of these critical moving parts.
Processed and inspected according to aerospace and military specification standards, our customers had 100% confidence in our final product. To learn more about this project or our processes, please contact us today.
Painting & Dry Film Application of Aerospace Aluminum Shafts – Project Information
Capabilities Applied/Processes

Solvent Cleaning
Masking
Priming
Dry Film Lubricant
Topcoat for Striping
Overall Part Dimensions

Product Length: 3" - 3'
Material Substrate

Aluminum
Special Features

Dry Film Lubrication
Color Identification
High Temperature Coatings: 300 °F to 1000 °F
In process testing/inspection performed

Adhesion Testing
Thickness Testing
Industry for Use

Aerospace
Volume

High
Delivery/Turnaround Time

Per Customer Commitment Dates
Delivery Location

Nationwide
Standards Met

Customer Specifications
Product Name

Shafts
Don't see the item you are looking for on this page? Please feel free to contact us for more information on our products & services.